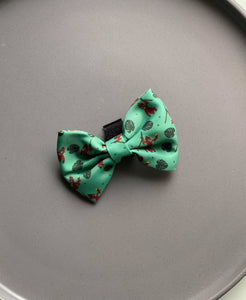 Brand new to The Four Paws Creations, must have accessory for your pups collars! Our Bow ties are suitable for every kind of pup !
This playful pattern is a great way to express your pups adventure and mischievousness with its adventurous pattern featuring Ollie the Orangutan. The classic green colour, the 'Jungles VIP' collection is perfect for every dog.
Featuring a velcro fastening meaning an easy on and off for those outfit changes !
One size only 6cmx9cm at the widest point.