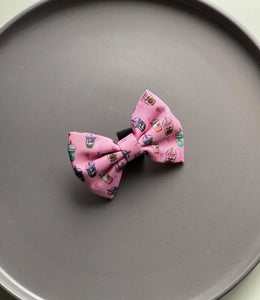 Brand new to The Four Paws Creations, must have accessory for your pups collars! Our Bow ties are suitable for every kind of pup !
This classy pattern is a great way to express your pups sass and style with its cute pattern featuring Bubble teas and Lattes. The classic pink and purple combination, the 'Love you a Latte' collection is perfect for every dog.
Featuring a velcro fastening meaning an easy on and off for those outfit changes !
One size only 6cmx9cm at the widest point.